ChatGPT is the most prominent example of development in AI. It captures the internet and media just after a few hours of launch. Everybody is impressed with this AI tool and its development. It gains almost a million users in just a week. But, where many people are thinking of being productive using this AI tool, you'll be amazed to know that you can actually earn money using chatGPT.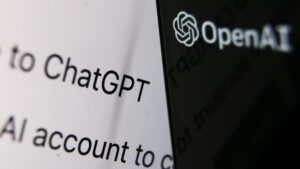 It is a computer program that can talk and answer questions like a person. You can use this cool technology to make money by helping people with their tasks. In this guide, we'll explore the various ways you can use ChatGPT to generate income, whether you're a developer, entrepreneur, or freelancer."
Also read: Amazon Software Development Engineer Internship 2023 : [Apply Now]
3 Ways to earn Money using ChatGPT
There are a lot of various ways to make money using ChatGPT but we're going to tell you the top 3 methods which you can start today and make more money in less time. Let's move to the first way.
1. Social Media Marketing
As the world becomes increasingly digital, social media has become an integral part of people's lives and businesses. As a result, the demand for social media managers has risen dramatically. With the advent of advanced AI tools such as ChatGPT, it has become easier than ever for individuals to enter this field and start earning money.
As a social media marketer, you can make money by leveraging the power of AI and ChatGPT technology. Here are some ways:
Create engaging content: ChatGPT can also be used to create engaging content for social media platforms. By leveraging its natural language generation capabilities, you can create compelling posts, captions, and hashtags that will help businesses connect with their target audience. You can also generate cold emails or promotional emails using this AI tool.
Offer social media management services: Another way to make money as a social media marketer is by offering social media management services. ChatGPT can assist with scheduling posts, finding the right hashtags, and even generating reports on metrics.
ChatGPT technology provides a wealth of opportunities for social media marketers to make money. By offering to automate social media tasks, creating engaging content, and offering social media management services, you can help businesses improve their online presence and reach their target audience effectively.
2. Youtube
YouTube is a platform that provides an opportunity to make money for creators. As a YouTuber, you can use ChatGPT to help increase your revenue stream. Here are some tips to help you get started:
Automate YouTube Management: ChatGPT can automate tasks such as finding trending topics, creating video descriptions, and generating tags. This will help you save time and focus on creating quality content.
Content Creation: ChatGPT can also be used to generate ideas for content creation. By leveraging its natural language generation capabilities, you can generate topics that are relevant to your audience, making it easier to create content that resonates with them.
Basically, what it means, is you can start a youtube channel from scratch and generate topic ideas, youtube video scripts, and everything using AI. You just have to voiceover and make a video by attaching stock footage. ChatGPT will also help you to write video titles & descriptions. That's all! Publish your first video using this method today!
3. Instagram
Instagram has become one of the most popular social media platforms with over 1 billion active users, making it a great opportunity for individuals and businesses to make money. ChatGPT technology helps you to increase your revenue stream on Instagram. Let's see the ways:
By Affiliate Marketing/Dropshipping: You can set up a new account on Instagram. ChatGPT will help you find the right name and also an appealing bio. After selecting a product, you can use ChatGPT to write captions and find the trending hashtags.
Using Instagram Paid Campaigns: You can run Instagram ads for business which will take you a few days to learn and then you can use this AI tool to write the product title and description and find the right audience.
That's all! Here are all the best ways to earn money using ChatGPT. You can start any of them today, it's that simple. With this, let's head to the conclusion.
Conclusion
In conclusion, ChatGPT technology has opened up a world of opportunities for individuals and businesses to earn money. By automating tasks, improving audience engagement, generating content ideas, and suggesting monetization strategies, ChatGPT can help you reach your financial goals on various platforms such as Instagram, YouTube, and social media marketing.
So if you're looking to earn money online, consider leveraging the power of ChatGPT technology to achieve your goals.